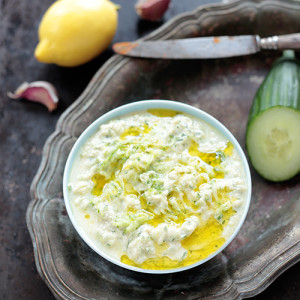 Prep time: 15 mins
Total time: 15 mins
2 cucumbers
1 cup of crumbled tofu - 300 gr
1 tbsp nutritional yeast
1 lemon, juice
1-2 cloves of garlic
¼-1/3 cup of olive oil
½-3/4 cup of water
salt, pepper
Start by shredding cucumbers. Use a handheld grater (or a food processor if you wanna be quicker). Set aside for 5 minutes, then drain cucumbers.
Meanwhile add tofu, nutritional yeast, lemon juice, garlic, olive oil, water and seasoning to blender and blend until completely smooth. Adjust consistency with water and creaminess with olive oil.
Mix together tofu 'yogurt' with shredded cucumbers. Serve cold. Enjoy!