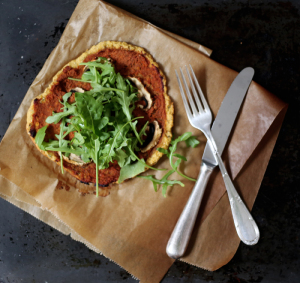 Prep time: 5 mins
Cook time: 20 mins
Total time: 25 mins
1 cup of chickpea flour
1 cup of water
3-4 tbsp olive oil
1 tbsp herbs /thyme, rosemary, basil, oregano.../
salt, pepper
for the tomato sauce:
15 cherry tomatoes
4-6 dried tomatoes
handful of basil
1 clove of garlic
olive oil
salt, pepper
Mix all your ingredients together, and let the mixture set room temperature for at least 3-4 hours.
Blend everything for your tomato sauce in a food processor.
Preheat oven to 250°C. Using a spoon create 4 thin and small "pizzas" on a baking tray out of your dough. Bake it for about 15 minutes. Take it out, add your sauce, add your toppings, and bake for an other 3-5 minutes. Enjoy!