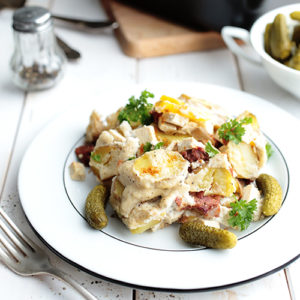 Hungarian Potato Casserole
Prep time: 15 mins
Cook time: 1 hour
Total time: 1 hour 15 mins
For the tofu eggs
250 g/9 oz firm tofu
1 tbsp black salt
2 tbsp apple cider vinegar
1 cup of water
For the sour cream
2 cups of cashews, preferably soaked
1 lemon, juice
1 tbsp nutritional yeast
⅔ cup of water
salt, pepper
For the sausage crumble
2 onions
1 can of kidney beans
2 tbsp tomato paste
1 tbsp hot paprika paste
2 tsp liquid smoke
1 tbsp oregano
1,5 tsp marjoram
1,5 tsp smoked paprika
2 tsp garlic powder
0,5 tsp red pepper flakes
salt, pepper
For the tofu egg combine black salt, vinegar and water in a bowl. Cut tofu into small pieces and place in the marinade. Let it marinade for at least 1 hour, but preferably overnight.
Cook potatoes in a sauce pan for about 20 minutes or until just tender. Drain, then cool a bit, and cut into thick slices.
Add cashews, lemon juice, nutritional yeast, water, salt and pepper to a blender and blend until completely smooth.
For the sausage crumble chop onions finely and sauté in a nonstick skillet over medium heat for 5-10 minutes, until they turn translucent. Add 1 to 2 tablespoons of water at a time to prevent sticking. Add drained beans and mash with a potato masher to a coarse texture.
Add the rest of the ingredients with about ⅓ cup of water and cook for about 5 more minutes. Keep stirring until the mixture has the desired consistency. I like it very dry and crumbly, but you can keep it a bit more moist.
To assemble layer one-third of potatoes in a casserole dish, top with half the tofu eggs and a few teaspoons of the sausage mix. I only used about half of the bean mixture for the whole recipe, but feel free to use more if you prefer. The leftover makes a great bread spread Spoon over one-third of the sour cream, then repeat with potatoes, tofu eggs, bean mixture and sour cream. Finish with the remaining potatoes and sour cream.
Bake at 200°C/400°F for 30 minutes or until golden. Serve with pickles. Enjoy!
Recipe by
Green Evi
at http://greenevi.com/hungarian-potato-casserole/