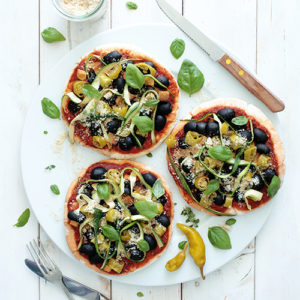 Prep time: 10 mins
Cook time: 20 mins
Total time: 30 mins
6 pitas, I used whole-wheat pitas
For the tomato sauce
2 large tomatoes, diced
4 sun-dried tomatoes
3 tbsp tomato puree
1 tbsp apple cider vinegar
1,5 tsp maple syrup
2 cloves of garlic
1 large handful of fresh basil
1 tbsp dried oregano
1,5 tsp dried thyme
salt, pepper
Toppings
1 cup of olives, halved
½ cup of smoked tofu, diced
10-12 pickled peperoncino, sliced
½ zucchini, thinly sliced or shaved
3 tbsp vegan parmesan
fresh basil
Prepare toppings. Dice tofu, slice peperoncino, halve olives and shave zucchini.
Combine ingredients for the tomato sauce in a blender and blend until smooth.
Place the pitas on a baking sheet and spread tomato sauce on top. Scatter the olives, tofu, peperoncino and shaved zucchini over the pitas.
Bake for 15-20 minutes at 200°C/400°F. Serve with vegan parmesan and fresh basil on top. Enjoy!