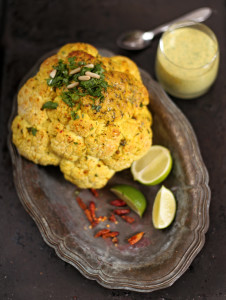 Spicy Whole Roasted Cauliflower with Coconut
Prep time: 10 mins
Cook time: 1 hour
Total time: 1 hour 10 mins
1 large cauliflower
1 cup of thick coconut milk or cream
3 cloves of garlic
½ tsp cumin
½ tsp turmeric
½ tsp paprika + 1 tbsp paprika
½ tsp coriander seeds
½ tsp curry
a small piece of fresh ginger
2 large handful of fresh parsley and cilantro/coriander
1 tbsp tahini
1 tsp flour of your choice
chili
salt, pepper
Preheat oven to 200°C. Wash the cauliflower and remove the leaves. Place it on a baking sheet.
Using a food processor or a mortal smash garlic, ginger, cumin, coriander seeds, turmeric, ½ tsp paprika, curry, chili, salt and pepper together. Mix them with the coconut milk and add a handful of fresh finely chopped herbs.
Spread half of the marinade all over the cauliflower and roast it for about an hour or until fork-tender.
For the dip pour the other half of the marinade into a sauce pan, add the flour, 1 tbsp of paprika and tahini and cook on low heat until it forms a thick sauce (10 minutes). Once it cools down, add some chopped herbs. Serve the cauliflower warm with the cold dressing. Enjoy!
Recipe by
Green Evi
at http://greenevi.com/spicy-whole-roasted-cauliflower-coconut/