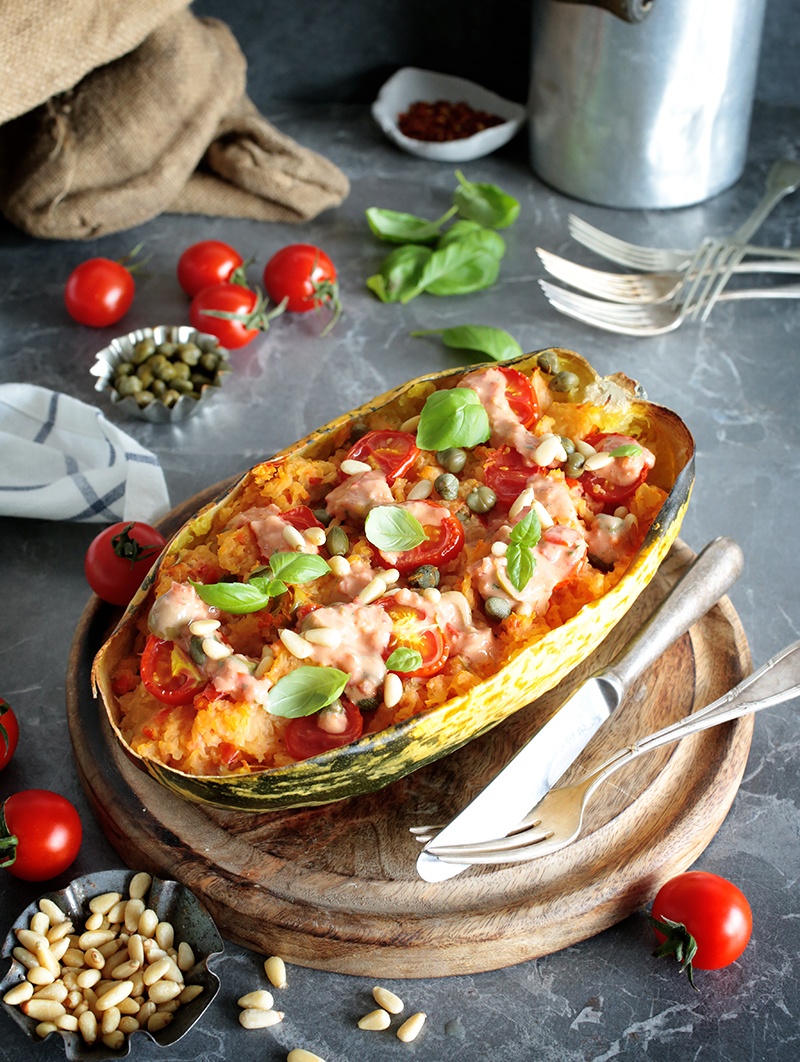 Baked Spaghetti Squash with Creamy Tomato Sauce
Prep time: 15 mins
Cook time: 1 hour 10 mins
Total time: 1 hour 25 mins
1 large spaghetti squash, halved lengthwise and seeded
½ cup of sliced olives
2 tbsp capers
½ cup of cherry tomatoes, halved
2 tbsp toasted pine nuts
For the sauce:
½ cup of soaked cashews
2 cups of cherry tomatoes
1 cup of fresh basil
¼ cup of nutritional yeast
4 cloves of garlic
2 tbsp tomato paste
1 tsp miso
½ tsp red pepper flakes
salt, pepper
Place squash halves cut-sides down on a large baking dish. Pour about half a cup of water into the dish and bake at 200°C/400°F for 30-40 minutes or until tender.
Using a fork, scrape squash into strands. Transfer squash strands to a large bowl.
Meanwhile add sauce ingredients to a blender and blend until completely creamy. Pour ¾ of sauce over squash strands, add olives, capers and halved cherry tomatoes, then mix everything well together.
Fill squash shells with saucy squash strands, and place back in the oven for 25-30 more minutes. Serve warm, topped with pine nuts and drizzled with rest of the sauce. Enjoy!
Recipe by
Green Evi
at http://greenevi.com/baked-spaghetti-squash-with-creamy-tomato-sauce/