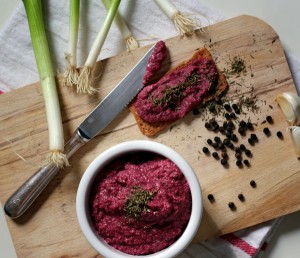 Prep time: 5 mins
Cook time: 1 hour
Total time: 1 hour 5 mins
4-5 small beetroots
1 clove of garlic
a small handful of sunflower seeds, soaked
a small handful of pine nuts, toasted
1 cup of rocket
1 cup of basil
¼ cup olive oil
1 Tbsp balsamic vinegar
½ lime
salt, pepper
Wash the beetroots. You can use them raw (after peeling), or wrap them in tin foil, bake them in the oven for about an hour in 200°C.
Once the beetroots cool down, peel and chop them and place in a food processor with the roasted pine nuts, soaked sunflower seeds and all the other ingredients. Blend everything well together.
Serve as a pasta sauce or spread on bread or use as a dip for veggies. Enjoy!
Recipe by
Green Evi
at http://greenevi.com/beetroot-pesto/